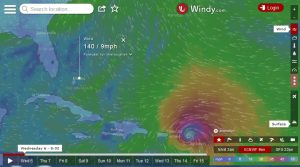 In the words of Creedence Clearwater Revival it, "Looks like we're in for nasty weather" so we're preparing for Hurricane Irma the best we can.
We expect to close Friday afternoon and will more than likely lose communication, but we will alert you as soon as we can when the storm passes.
On its present track some of our islands will get hit pretty hard so we all need to say a prayer for those folks.
Here on New Providence, if the course stays on its projected track, it appears we will feel the effects of the wind and rain, albeit not as strong as other parts of The Bahamas and Florida..
Keep your fingers crossed for us.
Visit Windy.com for further tracking here…