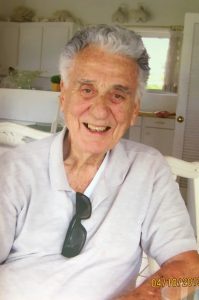 Roy Vivien Smith died at his home in Blair Estates at about 5.30 am on Tuesday, December 27, 2016. He was 93 and had been suffering from heart failure, but remained active and alert until recently.
Born in Watford, England on July 31, 1923, his father (originally from Norfolk) was a chauffeur and his mother was the daughter of Italian immigrant shopkeepers named Grego. The Grego's had arrived in England from Amalfi in the late 1800s.
Roy left school at the age of 14 and got a job as an office boy at the Marconi Wireless Company in Hayes. He volunteered for the Royal Air Force when the Second World War began in 1939, and was eventually posted to the Bahamas as part of 250 Air Sea Rescue Unit.
During the war, Oakes Field was used by the Royal Air Force as a training base for bomber air crews.
Roy was a wireless operator on motor torpedo boats stationed at Lyford Cay (a mangrove creek at the time), Oakes Field, Fort Montagu, and Harbour Island.
Their role was to rescue the crews of aircraft which came down at sea (about four or five a year), to co-operate with naval forces in the area hunting German submarines, and to tow bombing targets.
Roy married Barbara Malone, daughter of Out Island Commissioner Ronald Malone (of Hope Town) and Una Higgs (of Spanish Wells), at the Harbour Island commissioner's residence in December 1944.
They moved to England in 1945, when Roy was demobilised, but returned to Nassau in 1948, where Roy joined up with Wesley Sawyer and Bill Pemberton in a food processing and distribution company called Bahamian Whitecap.
In 1955, after the partnership foundered, Roy and Barbara moved back to Britain with their two young children (Larry & Luanne), where they ran a succession of small shops around London. But during a family reunion in Nassau in December 1961, they decided to return to the Bahamas for good.
In 1963 Roy became manager of a fledgling car dealership called Nassau Motor Company in the East Bay Shopping Centre. He remained at NMC until his retirement in 1985, when he and Barbara moved to Spanish Wells to enjoy life.
In the 1980s they hosted a reunion at Spanish Wells for about a dozen members of the Air-Sea Rescue crew Roy had served with during the war. Several more reunions were held in England during the 1990s. Only one crewman survives today – Henry Morris, in a nursing home in Yorkshire.
Roy was a past president of the East Nassau Rotary Club. His wife, Barbara, died in December 2011. His only sibling, Doug, died in 2012 in England.
Roy is survived by his two children (Larry and Luanne), a daughter-in law (Joanne van Sertima of Guyana) three grandchildren (Aliya, Casey and Stefano), and a grandson-in-law (Matthew Carey).