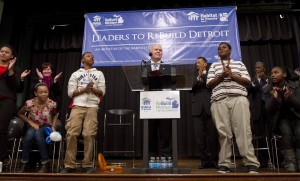 GM CEO kick starts $25 million fundraising effort for Detroit neighborhood improvement
2012-02-22 DETROIT –  General Motors Chairman and CEO Dan Akerson today helped launch Habitat for Humanity Detroit's "Leaders to ReBuild Detroit" initiative by personally giving $1 million as a cornerstone donation for the three-year, $25-million effort to engage Detroit's corporate leaders in revitalizing the city.
The Akersons' personal gift will help pay for house rehabilitation, construction and repairs in partnership with 20 families, and weatherization projects in partnership with 12 families in Detroit's Morningside Commons neighborhood.
"A strong America is built on strong communities, and building them starts with one hammer, one nail and one person who cares — from there, it's contagious," Akerson said.  "My wife, Karin, and I want to see this effort to rebuild Detroit catch on, spread out and draw scores more volunteers and millions more in contributions."
The "Leaders to ReBuild Detroit" initiative will serve at least 500 families by 2014 through house construction, rehabilitation, critical repairs, and energy-efficiency upgrades and weatherization projects.  Additionally, these families will participate in financial literacy training, homeownership workshops and community security initiatives provided by partnering organizations.
General Motors Co. (NYSE:GM, TSX: GMM) and its partners produce vehicles in 30 countries, and the company has leadership positions in the world's largest and fastest-growing automotive markets.  GM's brands include Chevrolet and Cadillac, as well as Baojun, Buick, GMC, Holden, Isuzu, Jiefang, Opel, Vauxhall and Wuling. More information on the company and its subsidiaries, including OnStar, a global leader in vehicle safety, security and information services, can be found at http://www.gm.com.