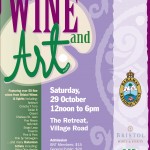 And get in on a chance to win an iPad2.
Nassau Motor and Custom Computers will be giving away an iPad2 to a lucky winner.
All you have to do to get your name in the draw is:
Come to the Bahamas National Trust on Village Road to their annual Wine and Art Festival, Saturday, October 29, 2011
Let us demonstrate the 2012 Civic to you
Fill in very brief survey, and,
Visit NMC for a test drive
Visit Custom Computers web site here to find out more about the iPad 2.