Extreme testing helps make only U.S.-built small car reliable and durable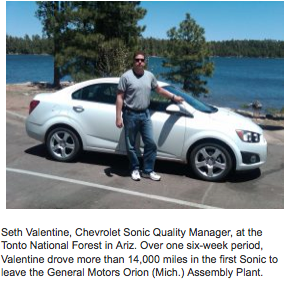 DETROIT – There are miles and then there are "Seth miles." Both measure 5,280 feet, but a "Seth mile" is different. More extreme. More grueling. More punishing. All that rigor is part of the durability story of the 2012 Chevrolet Sonic.
"Seth miles" are named for Chevrolet Sonic Quality Manager Seth Valentine. Each mile Valentine puts on a test vehicle is called a "Seth mile" by Sonic engineers because of his reputation for extreme testing on long road trips. Valentine's duty: Make the   Sonic the most reliable and durable small car in North America
The efforts are paying off as Sonic more than doubled the sales of its predecessor, the Aveo, in January. Sonic is the only subcompact built in the United States.
Over one six-week period, Valentine drove more than 14,000 miles in the first Sonic to leave the General Motors Orion (Mich.) Assembly Plant. Valentine drove Sonic Vehicle Identification No. 1 from north to south and east to west, across subtropical Florida, the arid deserts of Arizona, the mountains of Colorado, and the South Carolina low country.
In addition to amassing miles with other Sonic team members, Valentine would play typical consumer and pack the Sonic to the hilt for a family vacation.
During work trips, Valentine and his colleagues identified quality issues that needed fixed before Sonics were shipped to Chevrolet dealers. One lengthy journey from the assembly plant outside Detroit to Phoenix revealed an intense wind noise while traveling through a 40 mph crosswind in Texas. The wind noise was not a factor during testing at the GM Proving Ground in Milford, Mich. Valentine called the assembly plant from the road and had the problem fixed before VIN No. 2 left the factory. He took the same approach with other issues found on the road.
"I do test drives because I want to experience everything a customer could: low altitude, high altitude, high temperatures and low temperatures," said Valentine.  "In the course of one week I can go from below sea level at 120 degrees F to below freezing temperatures at 12,000 feet above sea level.  We can experience everything the customer might experience."
The Sonic comes with a 100,000-mile powertrain warranty, 40,000 miles more than most competing small car powertrain warranties. It is the only small car manufactured in the United States.
Founded in 1911 in Detroit, Chevrolet is now one of the world's largest car brands, doing business in more than 140 countries and selling more than 4 million cars and trucks a year.  Chevrolet provides customers with fuel-efficient vehicles that feature spirited performance, expressive design, and high quality. More information on Chevrolet models can be found at www.chevroletcaribbean.com.