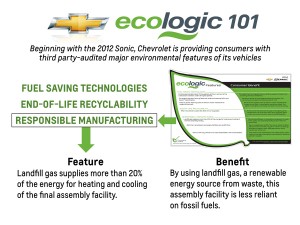 Ecologic sticker debuting on Sonic lists environmentally important vehicle features
DETROIT – Chevrolet today announced its vehicles sold in the United States will have EcologicTM environmental labels, starting with the 2012 Chevrolet Sonic, that let customers see some of the environmental features of the vehicle relating to manufacturing, driving and recycling.
Chevrolet is the first automotive brand to include a label of this kind on its vehicles. The Ecologic labels will be located on the rear driver-side window of Sonics beginning in March.  It will appear on 2013 Chevrolet vehicles later this year.
Each claim on the Chevrolet-created labels is audited by Two Tomorrows, an independent third-party sustainability agency that provides auditing and assurance services to companies for environmental initiatives.
"Customers want companies to be honest and transparent about their environmental efforts and sustainability goals, and rightly so," said General Motors North America President Mark Reuss. "Putting an Ecologic label on each Chevrolet is just one more way for us to share our environmental progress."