Segment-exclusive underbody splash shields improve durability and fuel economy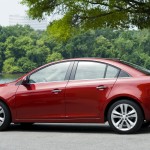 "DETROIT – When it comes to making sure the Chevrolet Cruze is as durable as it can be, Dave Schoener and his teammates are all wet.
"As a General Motors splash test engineer, Schoener helped develop an innovative splash shield for the Chevrolet Cruze that protects the engine compartment from water and potentially harmful contaminants.
"In addition, the splash shields, a segment exclusive in the Cruze, help prevent underbody corrosion by repelling water, dirt and mud. They also contribute to the Cruze's fuel economy – an EPA-estimated 42 mpg highway for Cruze Eco – by reducing wind drag."
NB. Available models and some equipment may vary.