Chevrolet
Any Chevrolet vehicle supplied to our area, available to our market and sold through Nassau Motor Company can be purchased or leased at competitive prices.
Honda
Honda models are available at competitive prices.
Warranties
Three year and 100,000kms manufacturer warranties are provided with any new vehicle purchased. Manufacturer warranties are generally invalidated when vehicles are imported into The Bahamas by anyone other than the Bahamas' representative. It is important to buy locally to receive the fullest protection for your investment.

NMC Leasing
Nassau Motor Company Leasing is currently the only retailer in The Bahamas with a fully developed in-house leasing program for qualified corporate and individual clients. Leases are "all inclusive" and available on a three-year term. Please download a lease application form in PDF format, or read our Lease FAQ Page.
Contact our Leasing Department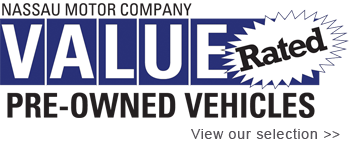 Pre-Owned Vehicle Sales
Nassau Motor Company sells a variety of used vehicles including trade-ins and lease returns. All "Value-Rated Pre-Owned Vehicles" are thoroughly inspected to repair any known faults and carry a 30 to 90 day warranty.
Obtaining A Bank Loan
Documents required by the bank when applying for a loan:
1. Invoice from Nassau Motor Company
2. Insurance Quote -(NMC can assist with getting a quote for you)
(online insurance application available in PDF format)
3. Job Letter
4. Copy of Pay Slip
5. Copy of NIB Card
6. Copy of Driver's Licence or Passport
7. Down payment required by bank