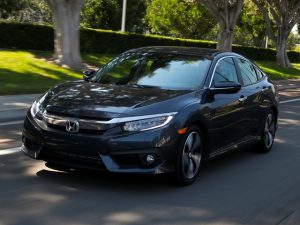 The 2017 Honda Civic won this year's Small Car Best Buy Award because it simply blows away everything else in its class. And for the second year in a row, it takes the Overall Best Buy trophy for the same reasons: The 2017 Civic so dominates its class, it was an obvious choice.
The Honda Civic has the compact car basics of course: it's affordable, gets excellent fuel economy, and offers a compelling mix of features for the money. But to that recipe it adds clever packaging resulting in a roomy interior, including a spacious and comfortable back seat that rivals those of some midsize sedans. The Civic is also fun to drive, whether you choose the most basic or most expensive model.
But the Civic is more than a fun-to-drive value. We noted last year how the Honda Civic raised the bar in its class with its attention to detail and world-class drivetrain. That all remains true, but with a year under its belt, we can see just how much the Civic alters the compact car landscape by the fact that there's still nothing quite like it on the road. The Civic sedan looks like nothing else out there, and this year it's joined by equally compelling coupe and hatchback models. And with the upcoming Civic Si, there will be a Civic for virtually every taste.