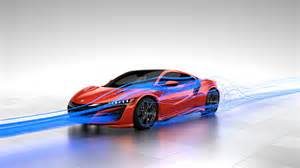 Apr 20, 2017
Project will lead to advances in product development and enhanced testing for production and race vehicles
New facility to be located at Transportation Research Center (TRC) in Ohio
MARYSVILLE, OH – Honda today announced a new investment of $124 million to establish a multifunctional aeroacoustic wind tunnel facility to advance vehicle innovation and enhance the world-class testing facilities at the Transportation Research Center (TRC), in East Liberty, Ohio. The groundbreaking is slated for the late summer of 2017.
"This new facility will further enhance our ability to efficiently create products of the highest quality for our customers," said Frank Paluch, president of Honda R&D Americas, Inc.  "It will be integral to our aerodynamic and aeroacoustic R&D activity, which spans from advanced research and computer simulation, through scale-model and full vehicle development, to production vehicle performance assurance. And all of this is being done right here in the U.S."
The new aeroacoustic wind tunnel facility will reinforce Honda's commitment to developing fuel-efficient and fun to drive performance-based vehicles.  The wind tunnel will utilize a unique interchangeable belt system capable of testing both production vehicles and racecars.  It features a five-belt rolling road system designed for the development of production vehicles and a second, single/wide belt system designed for testing high-performance sports cars and purpose-built race vehicles. Wind speeds of up to 192 mph can be produced in the tunnel.
"This innovative and industry leading asset provides us with another distinct reason for our customers to take advantage of the world-class testing facilities we have in Ohio at TRC," said Mark-Tami Hotta, president and CEO of the Transportation Research Center.
The aeroacoustic wind tunnel facility will have space for four secure and confidential customer bays, providing the opportunity for use by customers other than Honda.
The advanced acoustic design will drive the next generation of wind noise reduction by utilizing a strategic system of microphones and cameras set up to measure and identify potential noise issues on both the exterior and interior of a vehicle during the development stage.
Honda of America Mfg. purchased TRC from the State of Ohio in January 1988. The Ohio State University was a major beneficiary, as $6 million of the sale went to the College of Engineering at Ohio State to establish a transportation research endowment fund. TRC has continued to operate as an independent testing and research facility with surplus funds from the operation of TRC funding other endowments at the College of Engineering. To date, more than $54 million generated by TRC has gone to Ohio State to support and advance transportation research. This relationship is evident in the wind tunnel project as well, with Ohio State investing in faculty, staff and students to work alongside Honda researchers at TRC.
Honda in Ohio
Honda's rich history in the state of Ohio began in September 1979 with the production of motorcycles in Marysville, Ohio. In November 1982, Honda became the first Japanese automaker to begin automobile production in the U.S. at its nearby Marysville Auto Plant.  Construction of an engine plant in Anna, Ohio and a second Ohio auto plant located in East Liberty quickly followed these operations. A third automotive plant, the Performance Manufacturing Center in Marysville, Ohio, started the exclusive global production of the 2017 Acura NSX last year, the only supercar designed, developed and manufactured in the U.S., produced using domestic and globally sourced parts
Located near the Ohio manufacturing plants, Honda R&D Americas Ohio Center is Honda's largest R&D Center outside Japan and is responsible for creating advanced products and technologies that provide new value to Honda and Acura customers. HRA has the capability of "complete product creation" – developing all-new products, starting from market and technology research and design styling through engineering design, prototype fabrication and testing and support for mass production preparation.
Today, Honda operates 13 companies in Ohio, producing a wide range of Honda and Acura automobiles, automobile engines and transmissions using domestically and globally sourced parts.  The company has continued to expand local production, and since 1982, has manufactured over 17 million automobiles in the state.
About the Transportation Research Center Inc. (TRC)
The Transportation Research Center Inc. (TRC) is the leading independent automotive testing facility and proving grounds in the U.S., specializing in research and vehicle testing. On 4,500 acres of land and strategically placed approximately 40 miles outside of Columbus, Ohio, TRC Inc. operates 24/7, conducting brake, crashworthiness, durability, fuel economy, emissions, handling, and performance testing, and ensures the highest level of safety and security for its multiple customers. TRC Inc.'s experts collaborate with industry partners, such as The Ohio State University, to develop future mobility solutions for passenger and commercial vehicles, including autonomous and active safety technologies. As a multi-user facility, the TRC Inc. team focuses on the complex needs of its various domestic and international customers by providing mobility solutions to develop better vehicles, better drivers, and better roadways.