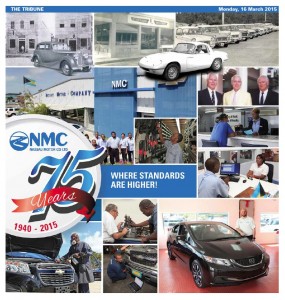 It's been a real blast reviewing our company's fabulous 75 year history over recent weeks.
Thanks to our great associates over the years and to Media Enterprises for pulling the newspaper supplement together.
And a huge Thank You to all our customers over the decades for your support! Without you it would not have been possible.
Don't forget to Celebrate with NMC and enter to Win in our weekly drawings every Week in March we'll be drawing the following prizes:
1 FREE ACDelco Battery from Parts Department with every purchase
1 FREE Oil Change from Service Department with every purchase
1 FREE Apple iPad from Honda or Chevy with the purchase of a new car, taking a test drive and proposal to purchase.
Buy a new Chevrolet or Honda during March 2015 and enter to WIN up to $7,500 OFF your purchase.