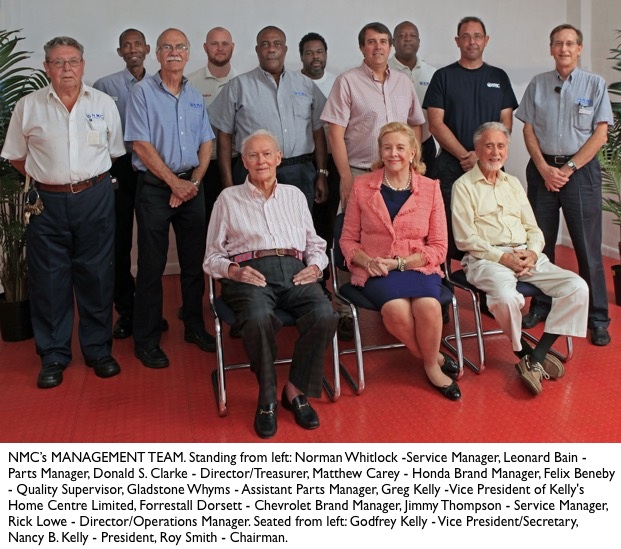 Nassau Motor Company – the oldest continuously operated auto dealer in the Bahamas – marks its 75th anniversary this month with weekly iPad giveaways and a draw for $7,500 off a new vehicle sold through March 31.
In addition, all service department customers will have a chance to win a free oil change (up to $125 value) and parts customers get a chance to win a free battery (up to $200 value). These drawings will be held every week during March.
A commemorative supplement will be published in the Tribune on March 16 and a remote broadcast on Island FM on March 18 will promote on-the-spot financing and insurance, plus special deals on select Chevrolet and Honda models.
The latest Honda and Chevrolet cars, trucks and sport utilities will be on display at NMC's Shirley Street showrooms.
NMC's roots go back to the early years of the 20th century, when Charles Kenneth Kelly opened a hardware store on Bay Street in 1927. In 1940, Kelly's Hardware signed a deal with the Standard Motor Company of Coventry, England.
Standard vehicles were displayed in Kelly's shop window until 1960, when the car division was set up independently in the East Bay shopping Centre, trading as Standard-Triumph Distributors.
The late Basil Kelly, Kenneth Kelly's son, was the company's first president. He was replaced by his brother David in 1979; and by David's widow, Nancy B Kelly, in 2009.
In 1964 the trading name was changed to Nassau Motor Company and the dealership moved to its current location on Shirley Street.
Roy Smith, a former RAF serviceman who had married a Bahamian on Harbour Island during the war, was recruited to manage the company in 1962. Now in his 90s, Smith has fond memories of the 20-odd years he spent at NMC.
"The East Bay location was just a couple of shop spaces with the partitions removed," he recalled. "I did the administration and sold cars while Aubrey Clarke (now retired on Abaco) handled the parts side. We also had a cleaner. Service issues were sent to a nearby gas station.
"The Shirley Street site included an 8,000-square-foot steel building that I never thought we could fill. Of course, there have been several expansions since then and NMC is now the leading full-service dealership in the country."
In 1965 NMC became a founding member of the Nassau Automobile Dealers Association (later the Bahamas Automobile Dealers Association). This group was formed to improve auto industry standards in the Bahamas, and NMC has always played a leading role.
In addition to its British Leyland franchise, NMC held the American Motors and International Harvester franchises in the early 1970s, when Wayne Lowe joined as general manager.
He replaced Smith as managing director in 1986 and continued in that position until his untimely death in 2010. Donald Clarke joined as controller in 1973 and is now the company's director/treasurer.
NMC adapted to changes in the global auto market by acquiring the Chevrolet, Pontiac, Oldsmobile, Buick, Cadillac GMC and ACDelco franchises in 1974 and the Honda franchise in the following year. The GM franchise was consolidated under the Chevrolet nameplate in recent years.
Both Honda and Chevrolet have been NMC partners for 40 years, so the company's service department, led by Norman Whitlock (who joined the company in 1966) and Jimmy Thompson (who joined in 1989 as a technician) is fully equipped and capable of handling all types of service and repairs.
The company's parts department is equally well supplied, under the expert management of Leonard Bain, who joined NMC in 1973 and Gladstone Whyms, who joined in 1988 as a parts clerk.
The Honda Brand Manager is Matthew Carey and the Chevrolet Brand Manager is Forrestall Dorsett. Carey joined NMC as a salesman in 2006 and Dorsett came on board as a parts clerk in 1990.
According to Director/Operations Manager Rick Lowe (who was recruited from a career in banking in 1986), NMC's success over the past 75 years can be attributed to four factors: "our commitment to financial integrity, high standards of customer service, a willingness to innovate, and some excellent associates."