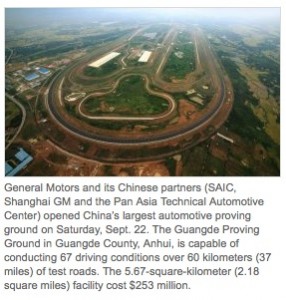 SHANGHAI – General Motors, SAIC, Shanghai GM and the Pan Asia Technical Automotive Center (PATAC) have opened China's largest proving ground, capable of conducting 67 driving conditions over 60 kilometers (37 miles) of test roads.
The 5.67-square-kilometer (2.18 square miles) Guangde Proving Ground in Guangde County, Anhui, represents an investment of RMB 1.6 billion ($253 million). Shanghai GM and PATAC are overseeing the proving ground's operation, which includes comprehensive support facilities.
"GM has brought some of our industry's most advanced technology and processes to the Guangde Proving Ground," said Kevin Wale, president, GM China, and chief country operations officer, China, India and ASEAN.
"Our goal from the beginning was to make this a world-class facility. The greatest beneficiary will be our customers, who will receive even higher-quality vehicles that are equal to those built and sold anywhere else in the world," Wale said.
The proving ground can carry out development, validation, certification, quality control evaluation, load data collection and analysis for vehicles less than 7.5 tons. It can accommodate up to 140 vehicles for testing simultaneously. About 20 million kilometers (12.4 million miles) worth of testing are expected to be conducted annually.
To simulate different driving conditions in China, the proving ground contains eight specific test areas: an oval track, vehicle dynamics test area, long straightaway, ride and handling loop, noise test road, durability test area, corrosion test area and hill test area. In addition, it has 23,000 square meters (247,569 square feet) of auxiliary space for labs, repair facilities and private workshops.
The Guangde Proving Ground will support the design and development of vehicles by Shanghai GM and PATAC, significantly improving testing efficiency, shortening product development time and reducing testing costs. It will complement PATAC's facilities in Shanghai, which include a Noise, Vibration and Harshness (NVH) Lab, Vehicle Safety Lab, Envision Visualization Center and Climate Wind Tunnel.
Shanghai GM builds, imports and sells a range of Buick, Cadillac and Chevrolet products. In 2011, it had record domestic sales of 1.2 million vehicles. PATAC provides automotive engineering services, including design, development, testing and validation of components and vehicles.
General Motors traces its roots back to 1908. GM has 12 joint ventures, two wholly owned foreign enterprises and more than 35,000 employees in China. GM and its joint ventures offer the broadest lineup of vehicles and brands among automakers in China. Passenger cars and commercial vehicles are sold under the Baojun, Buick, Cadillac, Chevrolet, Jiefang, Opel and Wuling brands. In 2011, GM sold more than 2.5 million vehicles in China. It has been the sales leader among global automakers in the market for seven consecutive years. More information on General Motors in China can be found at GM Media Online.