NMC News
TOKYO, Japan, February 4, 2012 – Honda Motor Co., Ltd. announced the installation of a 9 kilowatt-capacity solar power generation system at the Adachi Odai location of the Honda Cars Tokyo Chuo dealer network. The installation kicks off a project to install Honda Soltec*1 solar power generation systems with a total capacity of 1 megawatt at Honda automobile dealership locations in Japan by March 31, 2014.
Striving to realize a low carbon society, Honda has been installing solar power generation systems at Honda operations in Japan. The combined capacity of solar power generation systems installed to date has reached 3.3 megawatts, the largest in Japan among all automakers operating. Honda has been already installing solar power generation systems at some Honda automobile dealership locations; however, in order to further extend the effort to reduce CO2 emissions in the area of sales, Honda made a decision to pursue this large-scale installation of solar power generation systems that includes the installation of a display monitor which shows current power generating situation of solar panels to customers who visit the dealership location. Furthermore, Honda is planning to install a 2.6-megawatt Honda Soltec solar power generation system to the new Yorii Plant, which is scheduled to become operational in 2013. This will be the largest solar power generation system installed at an automobile production plant in Japan. (more…)
University project envisions smart interactive windows for rear passengers
DETROIT – Got backseat boredom? DVD players and Game Boys are so five years ago, but a new concept in rear seat entertainment technology that uses the windows themselves could replace squirminess and snoozing with interactive scribbling, sweeping and pinching.
General Motors Research and Development put that challenge before researchers and students from the FUTURE LAB at Bezalel Academy of Art and Design in Israel. The task: Conceptualize new ways to help rear seat passengers, particularly children, have a richer experience on the road.
The Windows of Opportunity (WOO) Project was inspired by psychological studies indicating car passengers often feel disconnected from their environment, GM asked the Bezalel students to turn car windows into interactive displays capable of stimulating awareness, nurturing curiosity and encouraging a stronger connection with the world outside the vehicle.
Enjoy the video below.
A bold, new look. More fun. Less fuel. The best use of space.
Stop by for a demo and test drive at your earliest opportunity.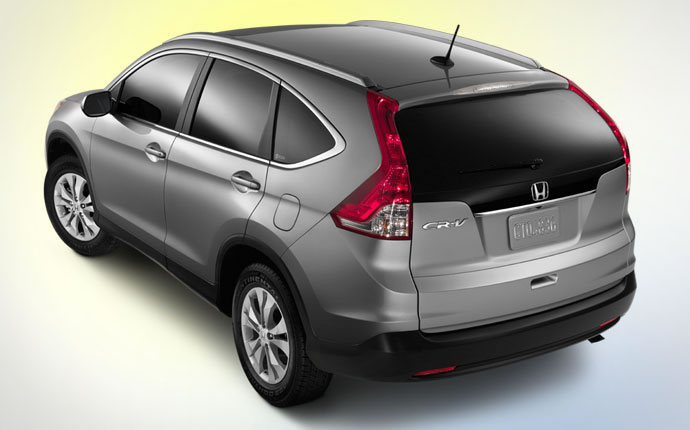 Check out the Honda Super Bowl ad here…
Ecologic sticker debuting on Sonic lists environmentally important vehicle features
DETROIT – Chevrolet today announced its vehicles sold in the United States will have EcologicTM environmental labels, starting with the 2012 Chevrolet Sonic, that let customers see some of the environmental features of the vehicle relating to manufacturing, driving and recycling.
Chevrolet is the first automotive brand to include a label of this kind on its vehicles. The Ecologic labels will be located on the rear driver-side window of Sonics beginning in March.  It will appear on 2013 Chevrolet vehicles later this year.
Each claim on the Chevrolet-created labels is audited by Two Tomorrows, an independent third-party sustainability agency that provides auditing and assurance services to companies for environmental initiatives.
"Customers want companies to be honest and transparent about their environmental efforts and sustainability goals, and rightly so," said General Motors North America President Mark Reuss. "Putting an Ecologic label on each Chevrolet is just one more way for us to share our environmental progress."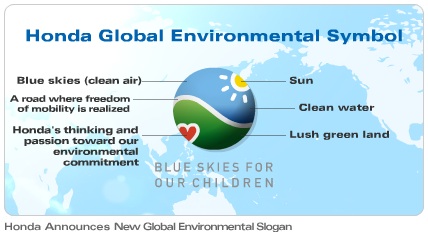 HONDA – Realizing "the Joy and Freedom of Mobility" and "a Sustainable Society where People Can Enjoy Life"
In 2010, Honda announced within and beyond its organization that the company's direction in the period leading to the year 2020 would be "to provide good products to our customers with speed, affordability and low CO2 emissions."
By "good products" we mean to embody customers' wants and needs in attractive products using Honda's unique technologies, knowledge and ingenuity. Such good products must be delivered with speed without making our customers wait, and at affordable prices that make our customers happy with their purchase. This is the direction Honda will take.

"With low CO2 emissions" represents our conviction based on the strong sense of crisis that, as a manufacturer of personal mobility, Honda will have no future unless we achieve a significant reduction of CO2 emissions.

This focus is encapsulated in the Honda Environmental Vision of a future in which environmental initiatives will allow people to realize "the joy and freedom of mobility" and "a sustainable society where people can enjoy life." In this vision, Honda has expressed its strong determination to contribute to a society based on sustainability and harmony so that it can continue to offer excitement to its customers through products and services used for personal mobility and in people's everyday lives.
Honda is determined to turn this vision into reality by actively implementing environmental initiatives on a global level. Particular emphasis will be placed on the following aspects: