NMC News
Get a great deal on a new Honda Fit, Civic, Accord or Odyssey before time runs out.
Coupled with 6.99% loans from Scotiabank, is there a better time to buy?
Call us today at 242-302-0130 for a demonstration and test drive so you can take possession of your new Honda before Christmas.
Don't miss special pricing on select Chevrolet models until the end of the month.
Choose from the
Chevrolet Aveo (Hatchback or Sedan)
Chevrolet Malibu
Chevrolet Tahoe
Chevrolet CMV Passenger Van and
Chevrolet Silverado Pick Up
Call us today at (242) 302-0130 to get yours while supplies last.
Scotiabank is offering 6.99% auto loans with no application fee for this week only (December 12 – 16, 2011).
Stop by our showroom today to apply and save!
Coupled with holiday specials on select models, this is a great time to buy a new car.
Segment-exclusive underbody splash shields improve durability and fuel economy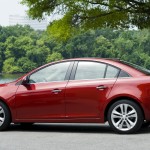 "DETROIT – When it comes to making sure the Chevrolet Cruze is as durable as it can be, Dave Schoener and his teammates are all wet.
"As a General Motors splash test engineer, Schoener helped develop an innovative splash shield for the Chevrolet Cruze that protects the engine compartment from water and potentially harmful contaminants.
"In addition, the splash shields, a segment exclusive in the Cruze, help prevent underbody corrosion by repelling water, dirt and mud. They also contribute to the Cruze's fuel economy – an EPA-estimated 42 mpg highway for Cruze Eco – by reducing wind drag."
NB. Available models and some equipment may vary.
Soichiro Honda once said:
I work in R & D.
What's the subject of my research?
It's not technology.
Rather, I research what pleases people.
With this in mind, "Honda has updated its Design site with "What makes people feel good?" providing rare insight into the concepts and priorities held by Honda designers in creating the electromotive concept models unveiled at the 42nd Tokyo Motor Show."