NMC News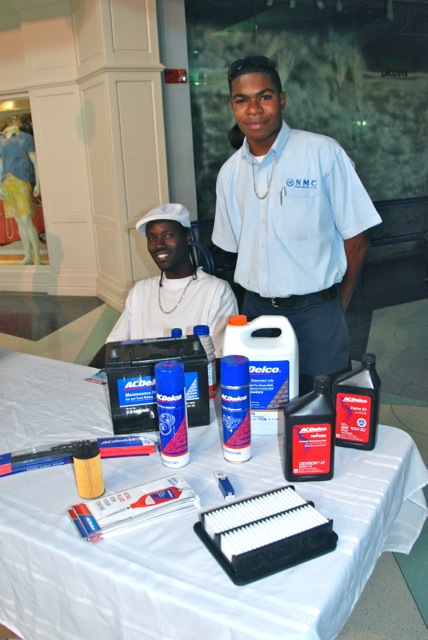 Click on image to enlarge.
The Bahamas Motor Dealers Association (BMDA) annual new car show is set for the Mall-At-Marathon on Friday and Saturday, March 30, and 31, 2012.
It's a great event where consumers can compare most models of the various makes of vehicles imported to The Bahamas.
Not only that, the banks and insurance companies are also there to assist clients.
So come on out and make deal to buy a vehicle from Nassau Motor please.
All clients visiting our booth that test drives one of our cars after the car show will get a chance to win an iPad2.
Honda's fun Fit tops competition between seven popular subcompacts
03/19/2012 – TORRANCE, Calif. The 2012 Honda Fit has won the Cars.com/USA TODAY/MotorWeek Subcompact Shootout. Honda's versatile and fuel-efficient Fit took the top spot in a competition among seven popular subcompact cars that seat at least four, have four doors, get at least 35 mpg on the highway, and can be purchased for less than $16,000. Experts from Cars.com, USA Today and "MotorWeek" tested these subcompacts to measure all of the needs of the average car-buyer including gas mileage, practicality, user features and comfort.
"We are thrilled to have the exceptional package that is the Honda Fit recognized by such a well-respected group of automotive media," said Michael Accavitti, vice president of marketing operations, American Honda Motor Co., Inc. "To have topped such a wide group of competition in such a thorough, real-world evaluation demonstrates that Honda versatility, value and fun are standard even in our most affordable model."

"As gas prices and used-car prices continue to rise, a shootout like this acts as a guide for consumers looking to purchase a new subcompact as an alternative to a used vehicle," said Patrick Olsen, editor-in-chief of Cars.com. "In addition to confident handling, a solid transmission, great visibility and unmatched practicality, the Honda Fit is just fun to drive and emerged as our clear winner."
Beyond this latest Cars.com/USA TODAY/MotorWeek shootout win, the 2012 Honda Fit is also an Insurance Institute for Highway Safety (IIHS) TOP SAFETY PICK and received the 2012 Residual Value Award from ALG. The Fit topped the J.D. Power and Associates' Initial Quality StudySM (IQS) for 2011 in its segment, and is a six-time winner of Car and Driver magazine's "10Best Cars" award, having garnered this accolade every year it has been on sale in the U.S.
Cars.com is an award-winning online destination for car shoppers that offers information from consumers and experts to help buyers formulate opinions on what to buy, where to buy and how much to pay for a car. Launched in June 1998, Cars.com is a division of Classified Ventures LLC, which is owned by leading media companies.
2012-03-13 DETROIT – The countdown to the debut of Chevrolet's next NASCAR Sprint Cup Series racecar is underway.  Chevrolet announced today that for the 2013 season, Team Chevy will be racing a vehicle based on a new nameplate to the brand's lineup.
Taking advantage of the new NASCAR rules, which allow manufacturers to display more of their brand identity in their racecars, the new Chevrolet racecar will closely resemble the production version.  Both cars will be unveiled in the coming year.
"We are keeping the wraps on the new car for now and will continue to prepare for next season by testing camouflaged vehicles," said Jim Campbell, vice president, Chevrolet Performance Vehicles and Motorsports.  "We know that Chevrolet fans are eager to see the new racecar and we hope that the prospect of being able to own one just like it will make the wait a little more bearable."
Read the entire press release here…
"Honda R&D's own Ryan Harty, explains how Honda's next generation Solar Hydrogen Station (using Honda's own thin film solar panels) works and fuels hydrogen vehicles. The Solar Hydrogen Station is designed to provide about 30-miles of driving range through an 8-hour slow-fill or enough to meet most daily commuting needs."