NMC News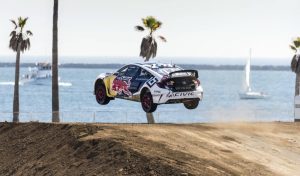 "…the 2009 F1 champion has been out testing a Honda Civic rallycross car at the Sebring International Raceway with the Swedish OlsbergsMSE team."
Silverado strong from the ranch to the arena
When we set out to build Team Chevy Rodeo, we knew it had to be made of the same strength and dependability we put into our trucks — the most dependable, longest-lasting full-size pickups on the road†. We needed riders who are tough, ready for adventure, and determined to win. And we couldn't be more excited about our team: Luke Branquinho, Richmond Champion, Tuf Cooper, Travis Graves and Fallon Taylor. As hardworking on the ranch as they are in the arena, we're proud to welcome them all to the Chevy family.
January 13, 2017 – The TOMODACHI Initiative* and Honda Motor Co., Ltd. ("Honda") held the "TOMODACHI Honda Cultural Exchange Program 2017", a two-week long cultural exchange program in Los Angeles, California from December 26, 2016 to January 9, 2017.
For three years beginning in 2015, Tohoku high school students who suffered from the Great East Japan Earthquake were selected to participate in this program. In prior years, students from Miyagi and Iwate prefectures were selected. In this final year of the program, twenty high school students from Fukushima prefecture participated in the program.
During the program, the students experienced American tradition and culture by meeting local students, having exchanges with the U.S. military, participating in volunteer activities and a homestay opportunity. As a highlight of the program, the students participated in the historic Rose Parade sponsored by American Honda Motor Co. by performing an original musical piece during the iconic American New Year's tradition. In addition, the high school students had an opportunity to decorate the float which was exhibited by American Honda for the Rose parade. The float was created with designs that incorporated the phoenix and Japanese crane, depicting the images of "eternity" and "peace". The students helped to decorate this float, which integrated U.S. and Japan cultural concepts with "peace" as the underlying theme.
Created by the TOMODACHI Initiative and Honda to develop and deepen exchanges among the next generation of leaders of the United States and Japan, the "TOMODACHI Honda Cultural Exchange Program" invites students from areas affected by the Earthquake who are engaged in music to visit Los Angeles, California. The program provides opportunities for the students to experience American traditions and culture through music, which is a universal language. This 3-year partnership has provided total of 60 high school students with a way to promote mutual understanding between Japan and the United States, a chance to establish friendships and relationships, and a means for expressing gratitude for the support offered by Americans for the recovery of the Tohoku region.
*About the TOMODACHI Initiative
The TOMODACHI Initiative is a public-private partnership between the U.S.-Japan Council and the U.S. Embassy in Tokyo and supported by the Government of Japan. Born out of support for Japan's recovery from the Great East Japan Earthquake, TOMODACHI invests in the next generation of Japanese and American leaders through educational and cultural exchanges as well as leadership programs. The Initiative seeks to foster a "TOMODACHI Generation" of young American and Japanese leaders who are committed to and engaged in strengthening U.S.-Japan relations, appreciate each other's countries and cultures, and possess the global skills and mindsets needed to contribute to and thrive in a more cooperative, prosperous, and secure world.
TOMODACHI Initiative website: http://usjapantomodachi.org/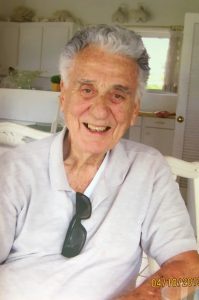 Roy Vivien Smith died at his home in Blair Estates at about 5.30 am on Tuesday, December 27, 2016. He was 93 and had been suffering from heart failure, but remained active and alert until recently.
Born in Watford, England on July 31, 1923, his father (originally from Norfolk) was a chauffeur and his mother was the daughter of Italian immigrant shopkeepers named Grego. The Grego's had arrived in England from Amalfi in the late 1800s.
Roy left school at the age of 14 and got a job as an office boy at the Marconi Wireless Company in Hayes. He volunteered for the Royal Air Force when the Second World War began in 1939, and was eventually posted to the Bahamas as part of 250 Air Sea Rescue Unit.
During the war, Oakes Field was used by the Royal Air Force as a training base for bomber air crews.
Roy was a wireless operator on motor torpedo boats stationed at Lyford Cay (a mangrove creek at the time), Oakes Field, Fort Montagu, and Harbour Island.
Their role was to rescue the crews of aircraft which came down at sea (about four or five a year), to co-operate with naval forces in the area hunting German submarines, and to tow bombing targets.
Roy married Barbara Malone, daughter of Out Island Commissioner Ronald Malone (of Hope Town) and Una Higgs (of Spanish Wells), at the Harbour Island commissioner's residence in December 1944.
They moved to England in 1945, when Roy was demobilised, but returned to Nassau in 1948, where Roy joined up with Wesley Sawyer and Bill Pemberton in a food processing and distribution company called Bahamian Whitecap.
In 1955, after the partnership foundered, Roy and Barbara moved back to Britain with their two young children (Larry & Luanne), where they ran a succession of small shops around London. But during a family reunion in Nassau in December 1961, they decided to return to the Bahamas for good.
In 1963 Roy became manager of a fledgling car dealership called Nassau Motor Company in the East Bay Shopping Centre. He remained at NMC until his retirement in 1985, when he and Barbara moved to Spanish Wells to enjoy life.
In the 1980s they hosted a reunion at Spanish Wells for about a dozen members of the Air-Sea Rescue crew Roy had served with during the war. Several more reunions were held in England during the 1990s. Only one crewman survives today – Henry Morris, in a nursing home in Yorkshire.
Roy was a past president of the East Nassau Rotary Club. His wife, Barbara, died in December 2011. His only sibling, Doug, died in 2012 in England.
Roy is survived by his two children (Larry and Luanne), a daughter-in law (Joanne van Sertima of Guyana) three grandchildren (Aliya, Casey and Stefano), and a grandson-in-law (Matthew Carey).