NMC News
2017 Honda CR-V
2017 Honda HR-V
2017 Honda Odyssey
2017 Honda Pilot
Four 2017 Honda models, the CR-V, HR-V, Pilot and Odyssey were each named as Best Family Cars of 2017 by the experts at Kelley Blue Book. Vehicles in the three categories of Two-Row SUV, Three-Row SUV and Minivan were extensively tested and evaluated by the expert editors at Kelley Blue Book. They focused on safety, value, reputation, driving manners, comfort and convenience, cargo versatility, technology, and fit of various rear-facing and forward-facing child safety car seats when choosing the vehicles that best meet the needs of today's families.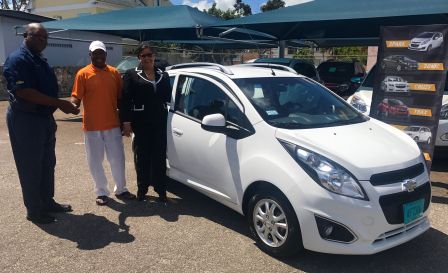 The winners of Nassau Motor Company's 77th anniversary 'Sweetheart Deal' drawing were handed the keys to their free Chevrolet Spark recently.
Herman and Cheryl Russell bought a 2015 Chevrolet Cruze from NMC earlier this year. The purchase made them eligible for the drawing for a 'Sweetheart Deal' car giveaway.
"The Cruze was the sixth car the Russells have bought from us over the years," said Director/Operations Manager Rick Lowe. "It was a pleasure for us to reward them with a free vehicle. The fuel-efficient Spark is a super second car for urban transportation."
NMC is continuing its 77th anniversary promotions with special discount pricing on all Chevrolet models in stock. In addition to the Spark, these include the Trax compact SUV, the Captiva mid-size SUV, the Sonic and Cruze sedans, the Tahoe full-size SUV and Silverado pickup.
As a full service automobile company, NMC represents General Motors, Honda and ACDelco in the Bahamas. Founded in 1940, the company maintains a sophisticated service facility and well-stocked parts department.
NMC Chevrolet brand manager Forrestall Dorsett hands over the keys to a FREE 'Sweetheart Deal' car to longtime customers Herman and Cheryl Russell.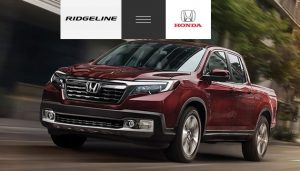 The Honda Ridgeline is a truckload of ingenuity
Or give us a call at (242) 302-0130 extension 4.
See you soon.
"Vehicle costs may be $1,800 higher by 2025.
"An automaker-funded report released Thursday said the US adoption of Corporate Average Fuel Economy (CAFE) standards between now and 2025 will result in higher vehicle prices and job losses. The study, released by Indiana University's School of Public and Environmental Affairs and funded by the Alliance of Automobile Manufacturers, said the higher investments automakers need to make in order to comply with such standards will boost the average new-vehicle cost in 2025 by $1,836 (for this year, the average cost is up just $154). Additionally, such standards may reduce US automotive-industry employment by as many as 150,000 workers by 2021."